Principled Technologies Finds That Refreshing to a Dell EMC PowerEdge R740xd Server Using Toshiba SATA SSDs Can Help Companies Meet the Needs of Database Users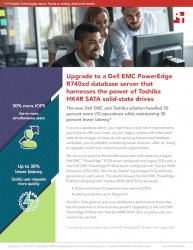 Durham, NC, June 11, 2018 –(PR.com)– Database admins know that it is essential to periodically refresh the hardware that runs their business applications. As legacy systems with older solid-state drives (SSDs) struggle to keep up with growing transactional database workloads, not upgrading can translate to missed business opportunities as response times lengthen and users lose patience. To prevent this from happening, smart companies select database servers equipped with storage that can handle a large number of transactions while maintaining speedy response times.
In hands-on testing with an Oracle input/output workload generator, PT explored the benefits of replacing a previous-generation Dell EMC PowerEdge R730 server configured with legacy SSDs with a new Dell EMC PowerEdge R740xd server configured with Toshiba HK4R Series Enterprise SATA SSDs. In PT tests, the new Dell EMC-Toshiba solution reduced latency by up to 38 percent and delivered 30 percent more I/O operations per second (IOPS). According to the report, "This increase in IOPS performance means your Oracle databases can handle higher levels of user activity. Whether customers are browsing your online store or employees are accessing the data they need to be productive, they stand to benefit from this more robust ability to handle periods of heavy database use."
To learn more about how choosing this Dell EMC-Toshiba solution can help companies meet growing database needs, see the full report at http://facts.pt/kzrbRR.
About Principled Technologies, Inc.
Principled Technologies, Inc. is the leading provider of technology marketing and learning & development services.
Principled Technologies, Inc. is located in Durham, North Carolina, USA. For more information, please visit www.principledtechnologies.com.
Contact Information:
Principled Technologies, Inc.
Natasha Simmons
704-712-1115
Contact via Email
http://www.principledtechnologies.com/
Read the full story here: https://www.pr.com/press-release/735047
Press Release Distributed by PR.com