Nuvertex Health Announces Release of Its New Organic Joint Pain Relief Supplement Glucosamine Chondroitin with Unique Combination of MSM and Boswellia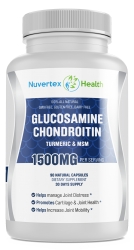 San Francisco, CA, March 04, 2018 –(PR.com)– Nuvertex Health is changing the game for Arthritis sufferers with the release of its joint pain relief supplement, Glucosamine with Chondroitin Turmeric MSM Boswellia Supplement. It's an all-natural strategic solution that counters the soreness felt from Arthritis. It reduces existing pain and inflammation, strengthens and provides more lubrication to the joints, and boosts the body's capacity to create cartilage. All these benefits are achieved through a unique combination of Glucosamine and Methylsulfonylmethane, or MSM and Boswellia. It is now available at Nuvertex Health's website and Amazon.
As the name suggests, the new joint pain relief supplement contains Glucosamine Sulfate, Boswellia extract, Chondroitin Sulfate, Turmeric, Quencetine, Methionine, Methylsulfonymethane (MSM), and Bromelian. All these ingredients have been scientifically proven to help promote mobility and prevent friction in the joints.
Osteoarthritis happens due to the breaking down of cartilage that causes pain along the joints and struggle in mobility for its sufferers. Glucosamine with Chondroitin Turmeric MSM Boswellia Supplement was created for them to regain the joy of being able to move around without the troubling pain.
The strategic combination of ingredients was made with their own specific purpose in mind. Glucosamine which is an amino sugar usually found in shellfish boosts the body's capacity to build cartilage. Chondroitin, on the other hand, is a natural component that helps retain water in the cartilage, giving it strength and durability.
Boswellia is another ingredient of the supplement that is popular for its capacity to strengthen connective tissues. MSM aids in the lubrication of the joints, making them more flexible. Turmeric is also another important ingredient included in the formula for its anti-inflammatory properties.
All of Glucosamine with Chondroitin Turmeric MSM Boswellia Supplement's ingredients work together to relieve pain and promote mobility to its users. Its main goal is for the Arthritis sufferers to experience the joy of moving freely and painlessly.
"We did extensive research for Osteoarthritis and the proven ingredients that help alleviate the pain. This is why we designed this unique combination of ingredients to create this supplement. We want to cater to the need of Arthritis patients to move around again without the pain," Nuvertex Health Spokesman said.
Nuvertex Health's Glucosamine with Chondroitin Turmeric MSM Boswellia Supplement is a United States Pharmacopeia (USP) verified product that is safe for consumption. It is allergen free and created in a safe and FDA approved laboratory in the United States. Glucosamine with Chondroitin Turmeric MSM Boswella Supplement does not contain gluten, milk, soy, egg or wheat. It is a vegan-friendly and preservative-free solution to joint pains.
Glucosamine with Chondroitin Turmeric MSM Boswella Supplement is the latest offering of Nuvertex Health. The company continues to move towards its goal to make the world a healthier place through products that strengthens the body.
Contact Information:
Nuvertex Health
Erich Colet
(442) 325-7087
Contact via Email
https://nuvertexhealth.com/
Read the full story here: https://www.pr.com/press-release/746550
Press Release Distributed by PR.com