Lockdowel, Glue-less Tool-less Joining for Cabinets and Furniture, Hosts Cabinet Makers Association Breakfast Oct. 18 Kicking-off the CMA Lancaster Regional Event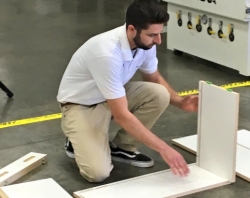 Lancaster, PA, October 05, 2017 –(PR.com)– Lockdowel, the snap-together assembly solution for furniture and cabinets, will host a breakfast for the Cabinet Makers Association to kick off their Regional Event October 18 at the Lancaster Resort and Conference Center. Lockdowel will present "Improving Your Shop's Capacity by 60%." This one day educational event also features tours of Lancaster Cabinet Company, Keystone Wood Specialties and Kitchenview Custom Cabinets.
"We are excited to show companies that by switching to Lockdowel Eclips fastening systems, shops will see an increase in production by at least 60%," Lockdowel President Bryan Koelling says. "With Lockdowel glue-less, tool-less assembly solutions cabinets can be flat-packed and assembled at the job site in a third of the time that it takes using traditional methods."
Lockdowel assembly is intuitive and easy and now being used by furniture and cabinet companies to strongly snap-together complete cabinet systems and furniture pieces. Lockdowel solutions are AWI tested and WI certified. This July the company won the AWFS Visionary Award for their "clickable" drawer slides, which saves countless hours in drawer assembly without using screws or tools.
The CMA has been hosting high-value events such as this since 1998 as a means of connecting similar-sized shops around North America with the purpose of sharing best practices and business acumen, while learning how other businesses do what they do. The regional events typically involve plant tours, educational seminars, networking, and simply a chance to talk shop and share issues, solutions and even projects. Although they are dubbed "regional," these events typically draw attendees from across the country as well as Canada.
"You don't have to be a member of the CMA to participate in this event, so it's a great way to join us and see what you've been missing," CMA Executive Director, Amanda Conger says.
The Lancaster CMA Regional Event on October 18 preambles the Wood Pro Expo show also at the Lancaster Resort and Conference Center on October 18 and 19. For more information and to register for both events please go to: http://www.cabinetmakers.org/october-2017-lancaster.html
Registration is $45 includes all three days, and open to all cabinetry and industry professionals and enthusiasts.
About Lockdowel
Lockdowel provides glue-less and screw-less fasteners, drawer slides and hinges for fast and easy installation of cabinets, furniture, closets and architectural millwork. Patent pending. Lockdowel 41920 Christy Street Fremont, CA 94538, (650) 325-8732 www.lockdowel.com
About CMA
The Cabinet Makers Association (CMA) is a professional organization where cabinetmakers and woodworkers come together to share their hard earned knowledge and experience to help one another. ​ We believe that collaboration, not competition, is the best way to improve our own individual companies as well as the industry as a whole.​ Learn more about us at: http://www.cabinetmakers.org
Contact Information:
Mary Lynn Heath, PR
Mary Lynn Heath
405.641.9733
Contact via Email
www.lockdowel.com
Read the full story here: http://www.pr.com/press-release/732070
Press Release Distributed by PR.com