A Shining New Star in the MLM Universe; AloeVeritas Prepares to Open in the United States – Timing is Perfect for a Wellness Revolution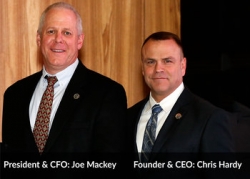 Dallas, TX, March 05, 2018 –(PR.com)– Following a successful launch in Europe where month-over-month growth exceeded 150%, AloeVeritas will soon bring a holistic plan for wellness to the United States. In March 2018, the founders of AloeVeritas will share their vision of a new Network Marketing future, based on some basic concepts: Natural. Honest. Fair. Their mission, vision and products are entering an industry that has long sought a better way and a better Company.
"Our Mission is to 'Reinvent Goodness' in everything we do," says AloeVeritas Founder and CEO Christopher Hardy. "The direct-selling industry is tired of over-hyped products, impossible to understand compensation plans, and unfulfilled promises made by CEOs. By being honest; making wonderful, certified-natural products that actually work; and offering a straightforward opportunity, we'll reinvent both goodness and an entire industry."
The AloeVeritas mission has already created a culture that sets them apart. Every Monday is dedicated to performing random acts of kindness around the world, and everyone is getting involved. "This has become so powerful that we periodically celebrate someone as an everyday, ordinary superhero," says Hardy.
"Our vision is not only to benefit our customers and distributors by delivering great products through a great opportunity, but also to make a difference in the world. Imagine the power of a hundred thousand or a million distributors worldwide performing a random act of kindness every week. As we grow successfully and intentionally, we will help not just ourselves and everyone we serve, but everyone we meet will also be elevated," continued Hardy.
Innovators in wellness skincare and wellness beauty, AloeVeritas products have already received rave reviews. They're all developed utilizing all-natural, organic and vegan ingredients when possible. Their proprietary formulas have been carefully tested and the results have been nothing short of spectacular. Evidence that their products are life-changing keeps pouring in from testimonial after testimonial. Hardy says, "For each product that we currently offer and for each new product that we plan to offer, we work with a firm but simple mindset, 'the product must work and be good for your long-term health, not just to make you look better in the short run'."
Many are already finding it refreshing and invigorating to find a company and opportunity focused on the well being of its customers and distributors. In fact, conversations between the founders of AloeVeritas and network marketing leaders around the world continue.
Opening in the United States is the next step toward establishing a company that is spreading mental, physical, spiritual and financial wellness around the world as AloeVertias reinvents goodness. On March 9th and 10th the Company will be formally launching in the United States and is expecting a tremendous crowd at the Gaylord Texan in Dallas, TX.
AloeVeritas is a global skincare, health and wellness company that first launched in Europe and plans to be worldwide. All AloeVeritas products are certified natural and contain the therapeutic benefits of pure, natural aloe that promote a healthier you – inside and out. A complete suite of wellness skincare products is available online through a network of highly trained independent distributors at aloeveritas.com.
#JoinTheMovement
www.aloeveritas.com
Contact Information:
AloeVeritas Global
Jillian Corley
305-219-6470
Contact via Email
Read the full story here: https://www.pr.com/press-release/746674
Press Release Distributed by PR.com